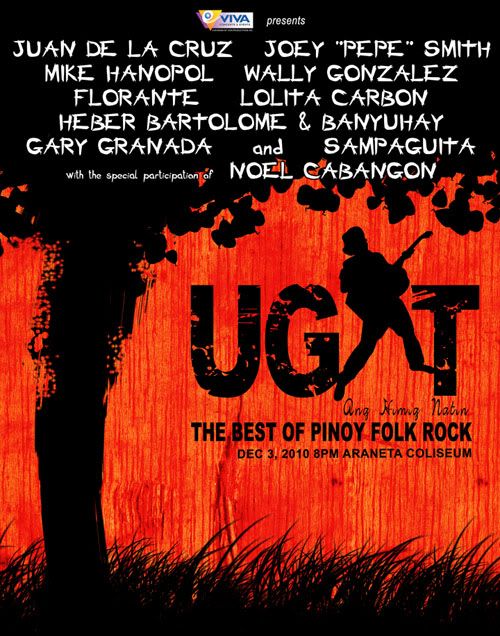 Friday afternoon, as I busily went through my staff's appraisal, I got a call from my husband. He got tickets to Ugat concert and my first question was, 'what's that?'
It's a concert produced by Viva Concert, a reunion performance of the local folk rock bands and artists. With nothing to do really on a Friday night, I decided to go.
We got there a little before 8pm but the concert didn't start until a little before 9pm. People were actually getting rowdy, I heard one audience say 'tugtugan na! inaantok na ko!' and people laughed. Stephen and I thought, the age bracket of the audience are basically those who are in bed by 9pm or earlier, who sleeps through a movie, or the mass. hehe. Yeah, audience is basically our moms and dads, lolos and lolas. Of course, there are a number of younger gens but who
wil
l appreciate Florante more than those people who were already in their teens during the 70's.
Pinoy Folk Rock sings of nationalism and patriotism to our motherland, of being responsible for taking care of nature. Although, the concert started late, it was one hell of a rock concert! It was a rare experience seeing Pepe Smith, Sampaguita, Florante, Heber Bartolome, Lolita Carbon, Mike Hanopol and Gary Granada in one stage. People went
wil
d over songs like Laki sa Layaw and Buhay Amerika of Mike Hanopol, Mabuti pa Sila of Gary Granada, Nosi of Sampaguita, among others. Each artist got to sing 3 songs per set. Wally Gonzales' guitar performance was jaw dropping, such prowess! Of course, when it was time for Juan dela Cruz band to perform, there was pandemonium. The band really know how to bring the house down. With Pepe Smith's unique antics, like 'bulateng inasinan'(a worm thrown with salt), that's the only way I can describe him onstage.
Overall, it was one unforgettable concert (and free!) :0 People were asking for an encore and everybody were standing up during the last part of the performance. The thing is, we now live among young artists, pinoy bands and all but you just have to give it to these legends. Their music is timeless, very meaningful and authentic. These guys deserve a standing ovation.