Busy busy weekends for us for sometime (or isn't it all the time) now. Our weekends were packed with family and friends gatherings. If our schedule gets this busy, it always means holiday is nearby and most likely we'll be this busy until December.
August 22: Hizon's Food Tasting Invite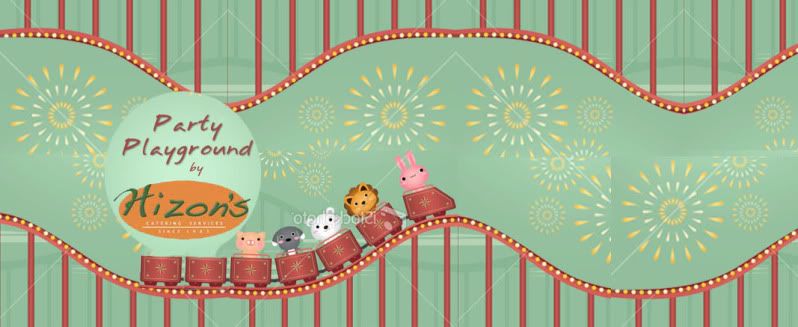 Got an invite to attend Hizon's Children's Party food tasting event at Oasis Gallery, San Juan:
Sophie gobbles down her spaghetti. She was so hungry because we came from church pa that day.
With a loaded stomach she can now smile. Yep, that's someone's ass right there lined up probably for the photo booth. Sophie was served spaghetti with meatsauce, chicken lollipop, pizza and bbq while Stephen and I were escorted to the adult buffet with pastas, chicken, pork, beef and fish entrees and desserts. Among the dishes, we enjoyed the fish with tartar sauce the most. The dessert bar was impressive, it had chocolate (white, pink and brown) fountains, choco mousse in shot glasses and other desserts. Hizon's coordinator, Faye, informed me that Hizon's premiered the dessert bar during Claudine's wedding.
Sept. 4: Family Weekend Party
My In-laws came to visit with my nephews Chungboy and Chinky winky
J
We borrowed garden set from the clubhouse so we can have outdoor meal. Mama Karol , my MIL, layed out the pool on the garage and the kids had a blast the whole afternoon only getting out to get food and re-apply sunblock. We were blessed with a good sun that day, it was perfect for family outdoor activity but never forget the sunblock. Of course, because it was a family ocassion, Stephen's brothers and cousins came too. Later in the afternoon, my sister Joy and nephew Keene arrived also bearing my new favorite things, pasalubong from the
US
! Thanks Ate Ne
J
Anyhoo, photos of our mini swimming party:
Sophie, Sam and Garnett in the pool. That's the illusive Chinky winky behind them (not swimming, bawal)
Sophie in her ever kikay pose with cousin Garnett (aka Chungboy)
Sam enjoyed the water so much
Even Ariel got to dip in the pool. Skinny dipping aye! :)
Sept. 11: MacDonald's Parties Galore
We're off to two McDonald's parties. Yep, that's two, one in the morning in Eastwood and one in the evening in
Greenbelt
. Actually, I realized just now, last Saturday I only fed my kids with Mcspaghetti, fries, chicken and sundae. Good thing, I don't normally feed my kids fast food or else I'll feel super guilty with that much fast food. But it was a fun day, nevertheless Seeing old friends again and Sophie and Sam brought home lots of toys from the parties. Sophie was actually shy to join the games but I told her she won't get any toy if she doesn't join. And so she joined every game, lol. Sam wanted to join also but he's too young to understand the mechanics so Ate Sophie played for him.
Sophie in her Hello Kitty shirt dress and my red lisptick (yes, I have kaagaw with my makeup as early as now)
Photo op before the games
The kids were asked to close their eyes. Sophie went the extra mile and covered her eyes with her hands maybe for fear of getting disqualified if she as much as peep. This is only her second time to join a party game. The first one was Sam's birthday :)
Sam intently stared at Hamburgler. Maybe he's trying to figure out what he is.
This weekend we're planning to break in the car and Subic is top-of-mind destination. We're going with travel friends, of course, the more the merrier!